Why The Blurr Co-Founders Interviewed 700 People Before Developing Their App by Daniel Arvidsson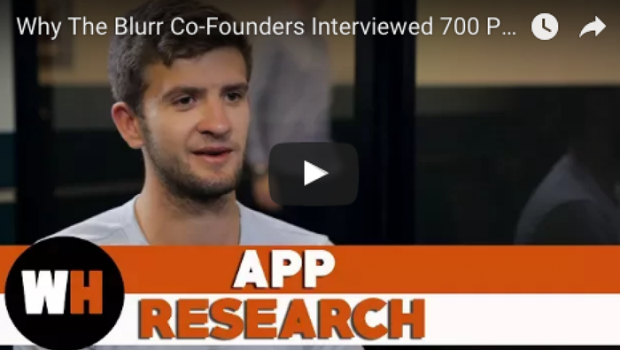 "We were living and breathing the target market every single day"
Photosharing App Blurr Co-Founder Daniel Arvidsson: It what definitely a long process in terms of developing an app. I mean, it is no easy task, especially since the 3 original founders all come from a business background.
So the first thing is you need to have an end-goal in mind. What is the end goal? And for us the product changed a lot but it has always been that we wanted to give people instant access to all the memorable photos taken around them. So I think having that end-goal set us on a path where we said everything we do needs to be related to that end-goal. So we need to be giving people instant and easy access to all the photos taken around them. And so having that was the first step. But then we need to get a design team to come up with this. We had a vision and then we drew everything up and we had the user stories and we did our research and we went out there "What do you think about these photosharing platforms? Do you see a gap in the market? How would you solve this yourself?"
I think we ended up interviewing over 700 to 800 people in the Boston area to really get an idea 'What do people want?' And so the product started to take shape and then we needed a designer to come in and put our…(watch the rest of the video interview here)
Photosharing App Blurr Co-Founder Daniel Arvidsson: The original idea we had back in February 2015, which now seems like quite some time ago, but one of our friends was moving to Australia for a study abroad. So we threw him a going away party. It was an unbelievable day. One of the best days that we've had in college, for sure. And we woke up the next morning (the three original Blurr app co-founders) and we realized that there were hundreds of pictures taken at this event. Why do we only have two or three in our camera rolls? There is something wrong. And we started to think about it more and we realized "You know what? This happens all of the time and there needs to be a solution for it."
When I went to college it was my intention to study finance and probably go work as an investment banker. I actually did an internship for 6 months at an investment bank. It was a great experience. But I kind of realized "You know what, this isn't really for me." But I never intended to create a product. I mean none of us did, as a matter of fact. I think we just saw a problem and at first we said "let's solve this problem ourselves." And then it went way better than we thought it would have gone and it took off from there.
Are you in the career you thought you'd be in after college?
Photo-sharing app Blurr is a remarkable way to give people instant access to every memorable photo taken around them.
Wise Heroes had the honor of catching up with these three amazing co-founders on what the app does, why they feel motivated on a daily basis and pitching their idea/product to investors.
Here are the first few videos in a series of many from the Blurr co-founders Daniel Arvidsson, Daniel Korman & Sam Marley, shot in Silicon Beach (LA).
DOWNLOAD THE BLURR APP
http://yourblurr.com
CONNECT WITH BLURR
http://yourblurr.com
https://www.facebook.com/yourblurr
https://twitter.com/yourblurr
https://www.instagram.com/yourblurr
CONNECT WITH DANIEL ARVIDSSON
http://yourblurr.com
https://twitter.com/daniarvidsson
https://www.linkedin.com/in/daniel-arvidsson-81b3ba91
CONNECT WITH DANIEL KORMAN
http://yourblurr.com
https://twitter.com/_dankorman
https://www.linkedin.com/in/daniel-korman-351671bb
CONNECT WITH SAM MARLEY
http://yourblurr.com
https://www.instagram.com/sammarley_
https://www.linkedin.com/in/sam-marley-275a51a4