Indiegogo Launches Education Center and Experts Directory To Help Campaigners Bring Projects from Idea to Reality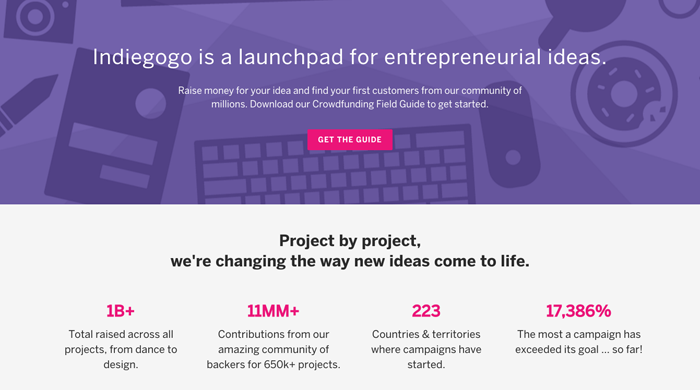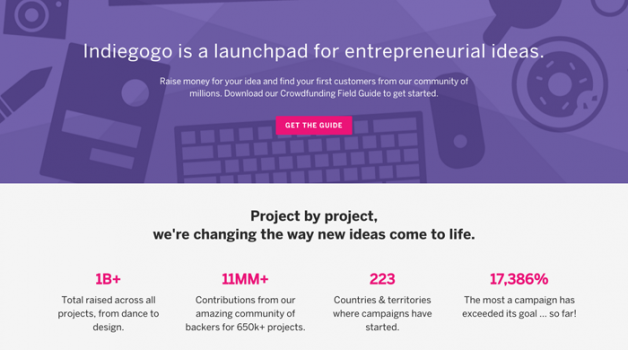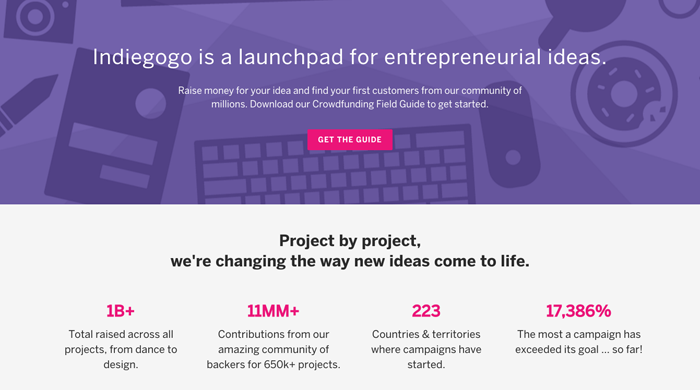 To Provide Entrepreneurs With Pre and Post-Launch Resources
And Offer Support with Every Stage of a Project's Journey
SAN FRANCISCO, August 3, 2017 – Indiegogo, the global platform for entrepreneurs to bring their ideas to life, announces the launch of a newly revamped Entrepreneur hub to enhance the campaigner experience through resources and education materials. Indiegogo for entrepreneurs will be home to an online Education Center, serving as a one-stop destination with advice for startups bringing their projects from concept to market, and an Experts Directory – where entrepreneurs can access organizations and expert content that will help bring their project to life.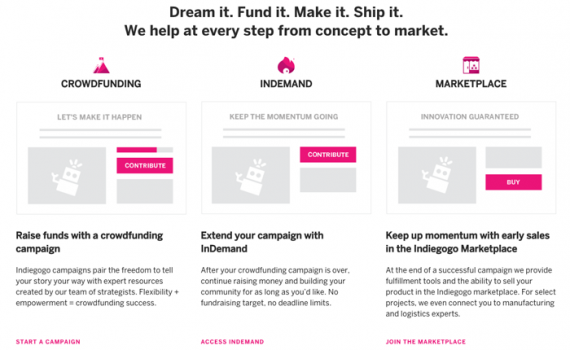 The Education Center by Indiegogo will provide engaging webinars, articles, podcasts and guides that cover every step of the crowdfunding campaign process. Indiegogo is launching the new online resource to help entrepreneurs be more successful on the platform, with support for:
Campaign Creation – Does an Indiegogo page have what it takes to succeed? This section highlights key characteristics of successful campaign designs, including how to design a compelling Indiegogo page with memorable product images and a clear call-to-action.
Product Development – Is a product design ready for manufacturing? Experts offer advice on improving user experience for design, engineering and manufacturing challenges.
Campaign Management – A well-managed campaign creates happy backers. This section uncovers the power of building backer loyalty and outstanding customer service by focusing on transparency and regular communication.
Marketing & PR – Learn how to effectively spread the word about campaigns through social media, direct media outreach, digital and other marketing efforts.
Campaign Planning – Success starts with having a plan, months before launch. This section outlines how to prepare for crowdfunding victory. Helpful guides cover every step of the planning process, from building an all-star team and developing a social presence to creating perks for backers.
Pre-Orders & Selling  – What happens after the campaign is over? Learn how to keep momentum going through the transition from crowdfunding to commerce with InDemand, which enables entrepreneurs to continue taking pre-orders for their products right on their Indiegogo page.
Indiegogo's Experts Directory features a select group of quality companies and services, vetted by Indiegogo and highly recommended by campaigners and staff alike. These experts offer advice on a variety of topics, with new categories being created over time, including: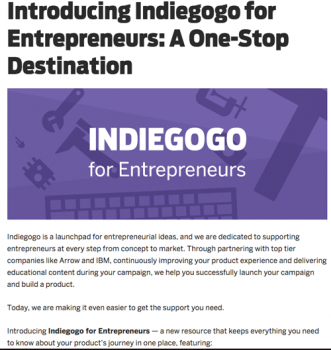 "Since Indiegogo was first founded nearly ten years ago, we've been committed to offering a launchpad for entrepreneurs and helping them turn their ideas into reality," said Indiegogo CEO David Mandelbrot. "We've launched the hub Indiegogo for Entrepreneurs to provide startups with the tools they need to bring groundbreaking projects to market as quickly and seamlessly as possible, whether you're launching your first project with us or are a seasoned pro coming back to Indiegogo to launch your next idea."
Since being founded in 2008, Indiegogo has introduced new products and services meant to support entrepreneurs beyond the crowdfunding stage of their business, including InDemand – which enables campaigns to continue accepting pre-orders after their crowdfunding campaign ends – and Marketplace – an Indiegogo storefront for business owners to sell products that are shipping now. Collaborations with Brookstone, Arrow and Amazon also help entrepreneurs on Indiegogo get their products to retail quicker and more easily than ever before.
For more information on the Education Center by Indiegogo, please visit www.entrepreneur.indiegogo.com/education.
Read this full blog post on Indiegogo here
About Indiegogo:
Originally launched as a crowdfunding platform, Indiegogo is the place for entrepreneurs to move their ideas quickly from concept to market and for innovation-seekers to find and support new and exciting products. Entrepreneurs on Indiegogo are able to showcase their ideas directly to users, take orders for products early in their lifecycle and ultimately build direct relationships with their first customers. The company was launched in 2008 and is headquartered in San Francisco, with offices in New York and Los Angeles. For more information, visit Indiegogo.com and follow us at Twitter.com/indiegogo and Facebook.com/indiegogo.
Affiliate Links