Tami Holzman, author/entrepreneur: Do I believe in laws of attraction? Yeah, I definitely think if you put good out in the world, it comes back to you. But you know, I'm so trusting that I've been burned.
So as much as I want to believe that if you put something good out there and something good doesn't come back, but I'd rather be the person that goes around trusting people and be the person that people can trust hoping that my goodness and my karma comes back in two-folds. And I think that if I had to outweigh it, I think it does. I think what I put there comes back for me.
I don't find having that opposite approach of being negative is the way to go. Negative energy (I don't know if you know this) is about 5 times the strength of positive energy.
If something negative happens or you're negative, you need five positives to counteract that. You want to make sure you surround yourself by as much positivity. So if you could put that out there and get it back, then I believe in the laws of attraction.
There was a quote I read and I was trying to remember…I don't know quite who it was but if you are surrounded by negative people, never expect to have a positive life.
I try to stay positive even if I've been burned I guess by doing something good that will make me feel good.
A great example of this is my little girl in Cambodia. I've been sponsoring her for nine years and when life gets tough or I've been burned, I think about what she's been through and put things in perspective.
Trying to put things into perspective I think helps. If you are going to constantly be negative, the best thing you can to do (people can do) is give a sh*t and give back, because when you give back that feeling is invaluable.
On the other side (being true to who I am), being burned, it hurts. And it take some time to get over it. I don't know what situation we are talking about in particular. But being burned, it hurts and it's unrealistic to think and ignore the fact that you are in pain. So you should feel it and you should try to learn from your mistakes at the same time.
Do you believe in laws of attraction?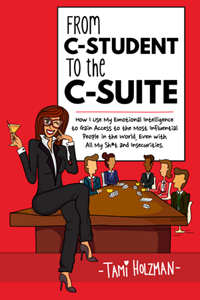 BUY THE BOOK — FROM C-STUDENT TO THE C-SUITE
http://amzn.to/2vanYh8
MORE VIDEOS WITH TAMI HOLZMAN
http://bit.ly/2rQNPZV
CONNECT WITH TAMI HOLZMAN
Fromcstudenttothecsuite.com
Linkedin.com/in/tamiholzman
Instagram.com/queenconnector
Facebook
Twitter.com/tamiholzman
https://www.pinterest.com/queenconnector
Affiliate Links: